Reka Cables to become the first carbon-neutral cable manufacturer on 1 November 2021
Reka Cables has worked systematically to reach its environmental objectives, and the company has been able to reduce its CO₂ emissions by 80% compared to 2019 levels. Reka Cables will compensate for the remaining emissions from 1 November 2021 on, achieving carbon neutrality in its own operations.
All three production facilities and the office premises of Reka Cables began using completely emission-free electricity in 2020. Cable production consumes a significant amount of electricity, which means that switching to green process electricity reduced the production's carbon footprint considerably. In addition, solar power plants were installed at the Keuruu and Riihimäki production facilities. The solar plants generate approximately 130,000 kWh of energy per year.
"We are the first carbon-neutral cable manufacturer, at least in our main market areas," says Jukka Poutanen, Managing Director.
In cooperation with AFRY Finland, Reka Cables has developed a calculator for calculating the carbon footprint of the company's operations. According to the calculations, Reka Cables has been able to reduce the remaining emissions of its own operations to estimated 480 tonnes CO2e in 2021 from 2630 tonnes CO2e in 2019. Reka Cables will compensate for these remaining emissions with a high-quality, transparent and Gold Standard-certified project as well as two puro.earth-certified projects, achieving carbon neutrality (Scopes 1 and 2) from 1 November 2021.
Compensation for the emissions will be achieved by investing in a solar power project in India, a project that focuses on carbon sequestration in buildings in Finland and a biochar project in Sweden. The compensation is carried out in cooperation with Nordic Offset, which operates in an international voluntary emissions trading network.
Emissions resulting from the company's own operations include direct greenhouse gas emissions, such as the emissions generated in cable production, and the fuels used for processes and vehicles as well as the emissions of purchased energy (electricity and heating).
Reka Cables will continue its climate action efforts in order to significantly reduce the emissions of its own operations and improve energy efficiency. The company has also drawn up a plan to switch to electric vehicles.
Compensation projects

Solar power project in the Guttigoli village in Karnataka, India, GS ID 6760
The project will install 100 MW of solar panels in the village of Guttigoli, located in the state of Karnataka in southwestern India. The solar panels are connected to the national grid and produce clean, affordable electricity. Most of India's electricity is still derived from fossil fuels and the construction of renewable energy sources is displacing CO2 emissions.
The project promotes local sustainability and education by supporting Guttigoli schools and providing jobs for residents. Land for project activities has been leased from its legal owners and the project will not cause any damage to the rights of indigenous peoples.

Permanent sequestration of carbon dioxide in Ekovilla, Finland, puro.earth
Carbon dioxide binds to building insulation material made from recycled newspapers. Carbon dioxide removal is considered to be long-lasting when it is done through the construction of buildings. Ekovilla thermal insulation can be used in both new construction and renovation of old houses, and its carbon stock is estimated to last at least 50 years.
The recycled paper used in the insulation comes from sustainably grown wood, which is why Ekovilla binds more carbon than is produced in its production.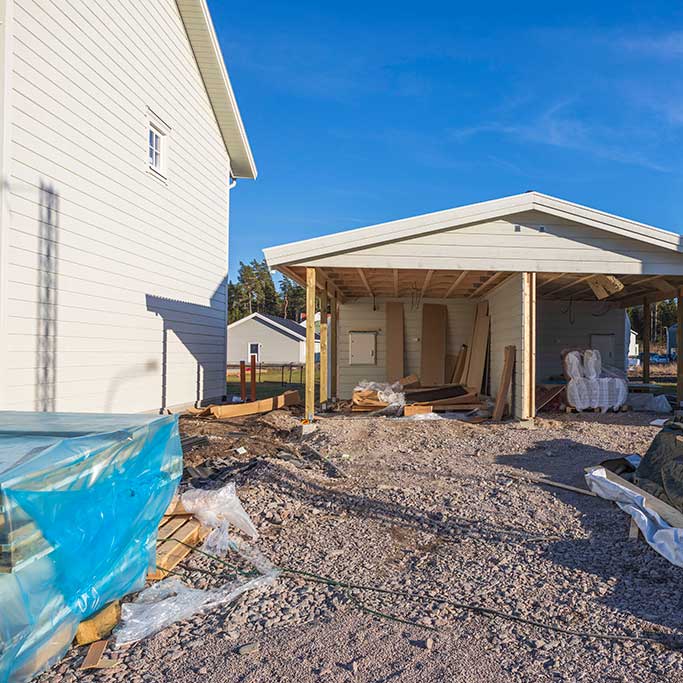 Biochar project, Hjelmsäters Egendom, Sweden, puro.earth
Hjelmsäter in Sweden produces local FSC-certified biochar from forest waste, which is used to cultivate the land and improve the environment in Sweden. In the pyrolysis process, energy is obtained from solar panels and excess heat from the pyrolysis process is utilised in the properties. Each tonne of biochar contains 94% carbon.
The use of biochar as a soil improver enhances growth, reduces the need for fertilizers and improves soil structure.